This article has a real world counterpart outside of Left Behind.
This subject has a counterpart in the real world. However, information in this article comes from the fictional universe of the Left Behind franchise.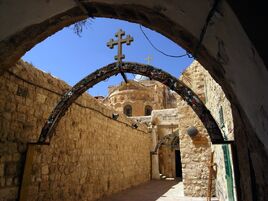 The Via Dolorosa (Latin for "Way of Grief" or "Way of Suffering") is a street in the Old City of Jerusalem. Traditionally, it is held to be the path that Jesus walked, carrying his cross, on the way to his crucifixion. It is marked by nine of the fourteen Stations of the Cross. The last five stations are inside the Church of the Holy Sepulchre. It is a focus of pilgrimage.
In "Desecration", Nicolae Carpathia mocked Jesus' triumphal entry into Jerusalem with his own version, by riding (or attempting to ride) on an oversized pig that was drugged to keep him from throwing his rider off. Crowds were gathered in similar fashion with palm leaves sold by vendors to throw into Nicolae's path as he was to ride down the street.
Ad blocker interference detected!
Wikia is a free-to-use site that makes money from advertising. We have a modified experience for viewers using ad blockers

Wikia is not accessible if you've made further modifications. Remove the custom ad blocker rule(s) and the page will load as expected.