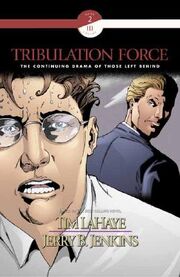 Tribulation Force Book 2 Volume III is the eighth book in a series of Left Behind graphic novels.
Plot Summary
As Chloe Steele is hired on by Bruce Barnes as a Bible teacher at New Hope Village Church, Rayford is being groomed by his boss at Pan-Continental to be the new pilot for Air Force One. Buck Williams attends a press conference at the United Nations, where Nicolae Carpathia introduces its change to the Global Community, and also the formation of a one-world faith group led by former Roman Catholic archbishop Peter Mathews. Rayford discovers from Hattie Durham, who is now Carpathia's personal assistant, that the new Air Force One will be rebranded as Global Community One.
Ad blocker interference detected!
Wikia is a free-to-use site that makes money from advertising. We have a modified experience for viewers using ad blockers

Wikia is not accessible if you've made further modifications. Remove the custom ad blocker rule(s) and the page will load as expected.