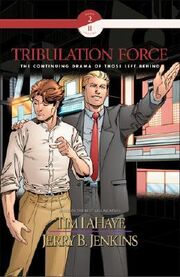 Tribulation Force Book 2 Volume II is the seventh book in a series of Left Behind graphic novels.
Plot Summary
Nicolae Carpathia offers Buck Williams the journalistic opportunity of being in control of his own publication, while Rayford Steele deals with false charges brought against him by a Pan-Continental employee and being trained on a new jet airliner that the new Air Force One will be, implying that he will be its pilot. Meanwhile, Chloe Steele falsely assumes that Buck was already engaged by seeing the woman that was at his apartment until he comes clean with the truth.
Ad blocker interference detected!
Wikia is a free-to-use site that makes money from advertising. We have a modified experience for viewers using ad blockers

Wikia is not accessible if you've made further modifications. Remove the custom ad blocker rule(s) and the page will load as expected.