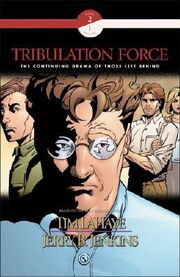 Tribulation Force Book 2 Volume I is the sixth book in a series of Left Behind graphic novels.
Plot Summary
As Nicolae Carpathia assumes control of the United Nations as the new Secretary-General, preparing to move it to New Babylon, the Tribulation Force in Chicago deals with issues at home, such as Buck Williams' being demoted and deported to the Chicago office of the Global Weekly, his interest in Chloe Steele, and Rayford's "proselytizing" on the job at Pan-Continental. Bruce Barnes now has the unenviable task of preaching to the congregation at New Hope Village Church the uncomfortable truth about the Tribulation period they will soon enter into. Suddenly Buck gets called into New York City for a secret meeting with Carpathia, and so he goes, not knowing what's going to happen.
Ad blocker interference detected!
Wikia is a free-to-use site that makes money from advertising. We have a modified experience for viewers using ad blockers

Wikia is not accessible if you've made further modifications. Remove the custom ad blocker rule(s) and the page will load as expected.