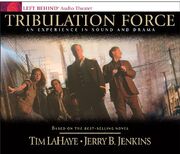 Tribulation Force: an Experience in Sound and Drama is a release of the following 12 episodes in the Left Behind radio show, based on the second book of the original book series:
1. Tribulation Force
2. The Coming Darkness
3. The Offer
4. Relational Tempest
5. Lifetime Opportunities
6. New Faith, Old Lies
7. Dealing With The Devil
8. Tribulation Treaty
9. Who Is Messiah?
10. Evangelism Explosion
11. Unfolding Plans
12. Death Strike
Personnel
Tim LaHaye and Jerry B. Jenkins: Original Authors
Chris Fabry: Adaptation
Todd Busteed: Director
Steve Wick: Music

Ad blocker interference detected!
Wikia is a free-to-use site that makes money from advertising. We have a modified experience for viewers using ad blockers

Wikia is not accessible if you've made further modifications. Remove the custom ad blocker rule(s) and the page will load as expected.