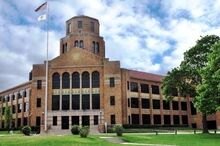 Stub
This article is a stub, and may require expansion. You can help the Left Behind Wiki by expanding it.
Maine East Highschool
was is a highschool in Illinois located near Park Ridge. It was used as a morgue during the aftermath of the
Rapture
.
History
Post-Rapture
During the aftermath of the Rapture, morgues were filled, so other locations were chosen for temporary use. Maine East Highschool was one of those locations.
Ryan Daley's mother, Marjorie Daley, was taken to the morgue there after a gas-main leak blew her car.
Ad blocker interference detected!
Wikia is a free-to-use site that makes money from advertising. We have a modified experience for viewers using ad blockers

Wikia is not accessible if you've made further modifications. Remove the custom ad blocker rule(s) and the page will load as expected.