WARNING: This wiki contains spoilers. Read at your own risk.
For more information, please view our Spoiler Policy.
Welcome to the

An online database and community about Tim LaHaye's and Jerry B. Jenkins's's Left Behind!!
Helpful links

| | |
| --- | --- |
| Contributing | Content info |

| | |
| --- | --- |
| Wiki tools | Other resources |
Nicolae Carpathia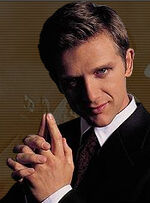 Nicolae Jetty Carpathia (NICK-o-lye Car-PAY-thee-ah), also known as the Antichrist, is a fictional character and the primary antagonist in the Left Behind book series written by Tim LaHaye and Jerry B. Jenkins.
0
Left Behind Wiki
Join the Chat>
Forum Activity

Legopanama created this page. If you have any ideas or encounter a typo or glitch, please contact him here.