WARNING: This wiki contains spoilers. Read at your own risk.
For more information, please view our Spoiler Policy.
Welcome to the

An online database and community about Tim LaHaye's and Jerry B. Jenkins's's Left Behind!!
Not sure where to start?

Questions? View the Help Pages or contact an admin. We'll be more than happy to help out!

Rules of conduct:

No fanfiction elements as articles or even parts of articles. We are focusing specifically on what's been officially released as part of the Left Behind franchise canon. If you want to do fanfiction, please start or join the Left Behind Fanon Wiki.

Helpful links

| | |
| --- | --- |
| Contributing | Content info |

| | |
| --- | --- |
| Wiki tools | Other resources |
Nicolae Carpathia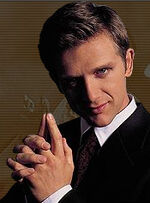 Nicolae Jetty Carpathia (NICK-o-lye Car-PAY-thee-ah), also known as the Antichrist, is a fictional character and the primary antagonist in the Left Behind book series written by Tim LaHaye and Jerry B. Jenkins.
Join the Chat>
<wikiaforum />

"
How do you describe both the beginning and an end? We should have known better, but we didn't. What does it matter if we think we know? In the end, there's no denying the truth..
"
—Cameron Williams[src]
Legopanama created this page. If you have any ideas or encounter a typo or glitch, please contact him here.
Ad blocker interference detected!
Wikia is a free-to-use site that makes money from advertising. We have a modified experience for viewers using ad blockers

Wikia is not accessible if you've made further modifications. Remove the custom ad blocker rule(s) and the page will load as expected.