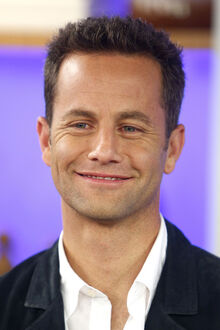 Kirk Thomas Cameron (born Monday, October 12, 1970) is an American actor best known for his role as Mike Seaver on the television situation comedy, Growing Pains, as well as several other television and film appearances as a child actor. Recently, he portrayed the lead roles in the Left Behind film series and in the 2008 drama film, Fireproof.
Cameron is also an active Christian evangelist. Cameron is currently partnered with Ray Comfort in the evangelical ministry The Way of the Master, and often appears on the radio show Wretched Radio. He stated that his main priorities in life are: "God, family, career - in that order," and he says that this decision has had negative consequences on his career.
Birth and family
Cameron was born on Monday, October 12, 1970 in Panorama City, California. His parents are, father, Robert Cameron, a middle school teacher, and mother, Barbara Bausmith. He is the brother to Bridgette, Melissa, and Candace Cameron, who is most notable for the role of D. J. Tanner on the television sitcom, Full House.
Cameron and his wife, actress Chelsea Noble, were married on Sunday, July 21, 1991. They now have six children, four of whom were adopted: Jack (born 1996), Isabella (born 1997), Anna (born 1998), and Luke (born 2000); and two biological: Olivia Rose (born Wednesday, July 18, 2001) and James Thomas (born Sunday, April 13, 2003).
Early acting career
Cameron began acting at the age of nine, appearing in television commercials and guest roles. His first starring role was at the age of ten in the television series Two Marriages. He became famous after being cast as "Michael Seaver" in the 1985 television series Growing Pains, for which he received two Golden Globe nominations. He subsequently became a teen idol in the late 1980s, while appearing on the covers of several teen magazines, including Tiger Beat, Teen Beat, 16 and others. At the time, he was making $50,000 a week.
Cameron went on to star in a number of films, including 1987's Like Father Like Son (a body-switch comedy with Dudley Moore), which was a box office success. His next theatrical film, 1989's Listen to Me, performed poorly at the box office. When Growing Pains ended in 1992, Cameron went on to star in The WB sitcom Kirk which premiered in 1995 and ended two years later. Cameron met his wife, actress Chelsea Noble, on the set of Growing Pains.
Recent years in acting
He has since left mainstream film, though a decade after Growing Pains ended, he starred in a television reunion film, The Growing Pains Movie, in 2000, and another one, Growing Pains: Return of the Seavers, in 2004. Cameron reunited with the cast of Growing Pains for a CNN Larry King Live interview which aired on Tuesday, February 7, 2006, in conjunction with the Warner Brothers release of the complete first season of Growing Pains on DVD. Aside from this, Cameron has often worked in Christian-themed productions, among them the post-Rapture films Left Behind: The Movie, Left Behind II: Tribulation Force, and Left Behind: World at War. He works with Cloud Ten Pictures, a company which produces Christian-themed films, and has starred in several of their other films, including The Miracle of the Cards.
He also appeared in the 2008 drama film, Fireproof, produced by Sherwood Pictures. The film was created on a budget of $500,000, with Cameron as the lead actor, portraying Capt. Caleb Holt. Though it a low-budget film, the film grossed $33,415,129, and was a box office success. It was the highest grossing independent film of 2008.
Christianity and Evangelism ministry
Cameron was once an atheist, but at age 17, during the height of his career on Growing Pains, he developed a belief in God. He became a Christian at age 18. After converting to Christianity, he began to protest what he perceived as immoral content in Growing Pains, ostracizing himself from his fellow cast members. He did not invite them to his wedding, nor did he attend any of theirs. However, a decade later, Cameron agreed to appear in The Growing Pains Movie, where the entire major cast reunited with one another. Cameron said, "It's a lot less crazy of a time than when we were teenagers. It's an opportunity to begin new friendships as adults, and I'm really looking forward to that."
Cameron currently partners with fellow evangelist Ray Comfort, training Christians in evangelism. Together, they founded the ministry The Way of the Master, which includes a television/video series, and a multimedia website. It formerly featured a radio show known as The Way of the Master Radio with talk show host Todd Friel, but that show was cancelled, and a new radio show, Wretched Radio, was created with Friel as the main host. Cameron and Comfort both make appearances on the show. Cameron also appeared on The O'Reilly Factor on Wednesday, April 12, 2006.
Television debate
Cameron and Comfort participated in a televised debate with atheists Brian Sapient and Kelly O'Conner of the Rational Response Squad, at Calvary Baptist Church in Manhattan on Saturday, May 5, 2007. It was moderated by ABC's Martin Bashir and parts of it were aired on Nightline. At issue was the existence of God, which Comfort stated he could prove scientifically, without relying on faith or the Bible. The audience composed of both theists and atheists. Points of contention that were touched upon included arguments in favor of atheism and evolutionary theory, and Cameron and Comfort repeatedly referencing the Ten Commandments and denouncing the theory of evolution.
Further reading
Websites
Interviews
Ad blocker interference detected!
Wikia is a free-to-use site that makes money from advertising. We have a modified experience for viewers using ad blockers

Wikia is not accessible if you've made further modifications. Remove the custom ad blocker rule(s) and the page will load as expected.