This article is out of universe from Left Behind.
This subject has been distinguished as part of the real world and should not be taken as part of the fictional universe of the Left Behind franchise.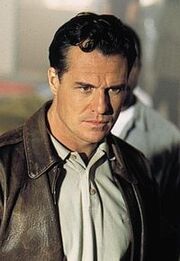 Brad Johnson (born October 24, 1959, in Tucson, Arizona) is an American actor and former Marlboro Man.
Johnson's first acting credit was in the low-budget biker film The Nam Angels (1989), and shortly after he had his first co-starring role in a major film when he played the role of Ted Baker in the 1989 film Always, directed by Steven Spielberg. His other movie credits include Flight of the Intruder, Philadelphia Experiment II, Copperhead and Supergator.
In all three Left Behind films, Brad Johnson played the part of Rayford Steele.
Ad blocker interference detected!
Wikia is a free-to-use site that makes money from advertising. We have a modified experience for viewers using ad blockers

Wikia is not accessible if you've made further modifications. Remove the custom ad blocker rule(s) and the page will load as expected.